Special Offers
Learn about the latest deals before everyone else - sign up today!


Tie-Dye Youth 100% Cotton Tie-Dyed T-Shirt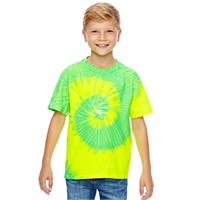 click to enlarge
Regular Price: $22.00
Sale Price: $11.24
You Save 49%
X
CD100Y Shirt Specs in Inches

BODY LENGTH



X-SMALL
SMALL
MEDIUM
LARGE


17.5"
19"
21"
22.5"



BODY WIDTH



X-SMALL
SMALL
MEDIUM
LARGE


12.5"
14.5"
16"
18"

Size specs are approximate because of variations in the mfg. process.
Description: Tie Dye CD100Y Youth 100% Cotton Tie-Dyed T-Shirt is 100% ComfortSoft cotton. Dyed in the USA and no two are exactly alike. Make sure to wash separately. Colors: Blaze, Blue Jerry, Blue Ocean, Camo, Cotton Candy, Crystal Blue, Eclipse, Eternity, Evening Sky, Flag, Fluorescent Swirl, Galaxy, Kingston, Marble 10, Marble Blue Tiger, Marble Lime, Marble Lollypop, Mardi Gras, Moondance, Neon Rainbow, Rasta Blue, Reactive Rainbow, Saturn, Spider Baby Blue, Spider Black, Spider Chocolate, Spider Crimson, Spider Dandelion, Spider Flamingo, Spider Gold, Spider Green, Spider Kelly, Spider Lavender, Spider Lime, Spider Mandarin, Spider Mint, Spider Navy, Spider Orange, Spider Pink, Spider Plum, Spider Purple, Spider Red, Spider Royal, Spider Silver, Spider Texas Orange, Spider Turquoise, Spiral Blue & Yellow, Spiral Lav Blue, Spiral Pink/Lt Pink, Spiral Purp/Lt Purp, Spiral Royal & Red, Spiral Yell & Orng, Tonal Navy, Tonal Olive, Tonal Pink, Tonal Purple, Tonal Turqouise, Tonal Yellow, Tour Bus, Tropical Breeze, Wild Spider and Woodstock. Sizes: S-XL
Matching Item(s):
See the Men's Tie-Dye 100% Cotton Tie-Dyed T-Shirt
BLUE JERRY




KALEIDOSCOPE




MOONDANCE




RASTA BLUE




REACTIVE RAINBOW




SATURN




SPIDER BABY BLUE




SPIDER BLACK




SPIDER GOLD




SPIDER LIME




SPIDER ORANGE




SPIDER PINK




SPIDER PURPLE




SPIDER RED




SPIDER ROYAL




SPIDER TURQUOISE




SPIRAL ROYAL & RED




WOODSTOCK



Colors are approximations
Screen Printing & Embroidery
Embroidery
, $4.25 Flat Fee.
75
Printed Tees
For As
Low As $3.93 ea
More >>
School Purchase Orders
Ask How To Save 10% More!
More >>