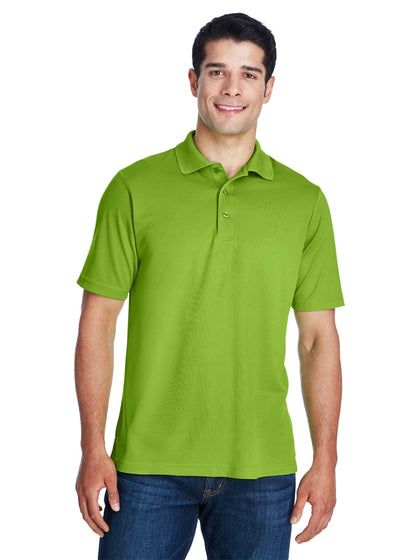 Core 365 Origin Mens Performance Pique Polo Shirt
Looking for a classic polo that goes the extra mile? The Core 365 Men's Origin Performance Pique polo is a cut above the rest, bringing together all the features you love in a classic polo in a new and improved design.

Best of all? You can get a great polo shirt without paying extra for the great style you love.


Men's Origin Performance Core 365 Shirts
The Core 365 Origin Men's Performance Pique Polo Shirt takes men's polos to the next level, with great material and great design for a standout package.

Made from 4.1 oz, 100% polyester pique knit, the fabric is moisture-wicking, antimicrobial, and UV protection. Performance never felt so good.

And with this classic design, the performance feels stylish too. The Performance Pique polo offers a classic polo design with a tailored sleeve and a matching flat knit collar and a 3-button placket. But the sleeves are also just loose enough that you won't feel constrained.

It's tagless, with a heat-sealed label inside the neck. That way, you don't need to fight with an uncomfortable tag all day. All told, it's a newer, better take on the classic polo.

Apparel Colors Made for All Styles

Who says basic has to be boring? When you're rocking a classic men's polo, colors are how you show your style, whether you're a clean-cut kind of guy or the guy who likes to make a big entrance. Either way, you'll find color options here that let your true colors shine through.

As you can see, there's a little bit of everything here, from classic color choices to off-the-wall colors. We like to think of it as a color for every occasion.

Size Options to Keep Every Customer Comfortable

Tired of finding a great polo shirt only to discover it's not available in your size? We think customers of all sizes should be able to find apparel they love, which is why we carry a wide size range to fit every customer.

Please note that our extra-large sizes (2XL, 3XL, 4XL, and 5XL) come with a small surcharge. Not much, though--you'll still pay less for shirts with us than you would pay anywhere else.

You'll notice that Core 365 has a retail price and a sale price. The retail price is what you would pay with most other brick and mortar or online retailers. The sale price is what you pay with us, a mere fraction of what you would pay for the same men's shirt anywhere else.

Shirts Made for High Performance

You show up to work hard. Your polo shirt should do the same. Add this shirt to your cart to find out how amazing an everyday polo can really be. Got any questions? Our customer service team is always ready to help.