Home
»
Fruit of the Loom Cotton Pocket T-Shirt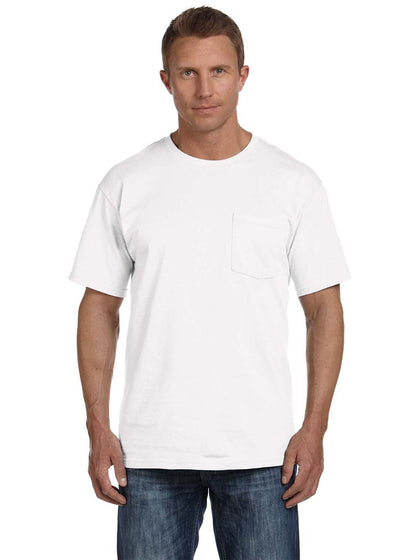 Fruit of the Loom Cotton Pocket T-Shirt
Men shouldn't have to pay more for a classic style, and a basic t-shirt should be anything but forgettable. This Fruit of the Loom men's pocket t-shirt is here to change how you think about basic tees, with a classic cut, high-quality material, and crazy comfortable design.

And best of all? You don't have to pay more for the Fruit of the Loom styles you love.


A Classic Fit Fruit of The Loom 100% Cotton Pocket T-Shirt
Looking for your new favorite short sleeve pocket t-shirt? You can carry on comfortably with Fruit of the Loom.

These men's pocket t-shirts are designed for comfort, with a free collar, super soft cotton, and, of course, a stylish pocket. The fabric is 5oz pre-shrunk, lighter weight cotton, a crazy comfortable, high-quality material.

Don't forget about the pocket! This shirt features a small 5-point pocket on the left side of the chest.

Select Color Options Perfect for Every Occasion

Who says a basic t-shirt has to be boring? Not us. We think everyday shirts are the best expression of your personality, which is why we carry this pocket t-shirt in practically every color of the rainbow.

Please note that Ash and Athletic Heather both have some polyester content. Ash is 98% cotton, 2% polyester; Athletic Heather is 90% cotton, 10% polyester. Polyester wicks moisture, so the material is ideal in an athletic tee. Most customers don't notice the difference, but please reach out if you have any questions.

Thinking about printing for a large group? Our helpful customer service team would be happy to answer any questions about how colors perform with printing.

Select Size Options for Every Customer

Tired of finding a great pocket t-shirt only to realize it's not available in your size? We know customers should be able to find great pocket tees for great prices, so we carry Fruit of the Loom t-shirts to fit every customer.

Please note that our sizes above extra-large (2XL and 3XL) come with an added surcharge. Not too much, though. On every product in our store, you'll see a retail price and a sale price. The retail price is what you would pay with most retailers. The sale price is what you pay with us, a fraction of the retail price even with the surcharge.

Because when you find a shirt with a great fit, quality material, and fun colors, you should be able to afford it. It's as simple as that.

Add Quality Shirts to Your Cart Today

Whether you're ordering a large number of shirts for a big group or just ordering for yourself, you shouldn't have to pay more for great style. We know you have a lot of options, but we think our great selection, helpful customer service, and unbeatable prices will keep you coming back. So add this shirt to your cart--and don't forget to add extras for the other stylish men in your life!