Home
»
Gildan Ladies SoftStyle T-Shirt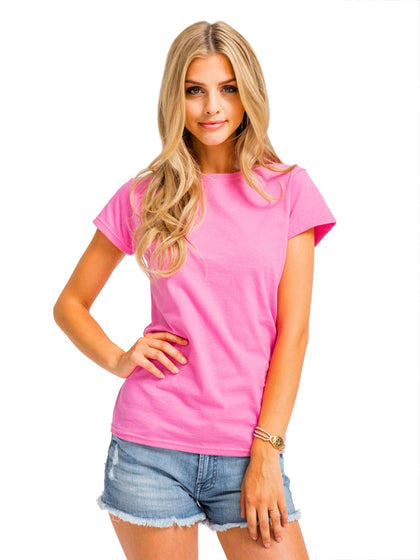 Gildan Ladies SoftStyle T-Shirt
Looking for your new favorite Gildan t-shirt? The Gildan SoftStyle (also known as the 64000L) is a shirt designed with stylish men in mind, made with high-quality material, a semi-fitted cut, and colors that let your personality shine through every time you wear it. Because even when it's a basic shirt, Gildan knows it should never be boring. Click here for the mens
Gildan Softstyle
t-shirt.
Clothing with Style
The Gildan SoftStyle is made with 100% 4.5 oz ringspun cotton. It's a shirt designed to maximize comfort while still maintaining breathability. Think of a material that's soft enough to live in and you know why you'll love the SoftStyle.
Some colors offer a different blend. Sport Grey is a 90% cotton 10% polyester blend, while all Heather colors are a 65% polyester 35% cotton blend. This makes them lighter, sportier shirts that wick away moisture well, so if you want a shirt you can workout in, reach for one of these colors.
Regardless of your color selection, this Gildan shirt is a lighter-weight option with a fashion fit. It's fitted in the right places but still a comfortable, casual length. The style offers a balanced fit with sporty-length sleeves.
Our Available Colors
Who says a basic t shirt has to be boring? The SoftStyle t shirt comes in a variety of colors that show your unique style and personality, no matter what that means to you.
To that end, we stock SoftStyle shirts in all sorts of colors, from Antique colors to Heather colors to Sport Grey. Some of our available color options include:
We use high-quality photography to represent shirt colors as accurately as possible. However, every monitor displays color slightly differently, so the color of your Gildan shirt may be slightly different than the color you see on your screen. If you have any questions about your shirts or you're not satisfied with your order for any reason, reach out and let us know!
Sizes to Fit Every Customer
We think that you should be able to order a great Gildan shirt no matter your size. So we stock sizes that work for men of any size.
For us, that means size options ranging from small to 3XL, all with the same comfortable cut, the same great color, and the same great style.
Please keep in mind that your order of a 2XL and 3XL shirt will cost more than other sizes. If you have any questions about our pricing, please feel free to get in touch.
Affordable Styles with Affordable Shipping Options
We think a shirt from a great brand like Gildan should be available to customers regardless of their price range. We also know that our customers have a lot of options to choose from. That's why we make it easy to buy a large number of fantastic shirts at a price that works for your budget.
On this shirt, you'll notice a sale price and a regular price. The regular price is what you could expect to pay for the same shirt in a retail store. The sale price is what you pay when you shop with us. Because we believe in showing you the savings you get with us.
But don't let our low prices fool you. We only sell top-of-the-line, brand-new merchandise. The difference is that we make it affordable to customers like you.
We also believe in outstanding customer service and delivering on our brand promises. So if you're not satisfied for any reason, we'll refund your purchase for up to 60 days from your order date with no restocking fees. For us, it's all about delivering a great customer experience from start to finish.
Order Your New Favorite Gildan Tee in Our Shop Today
Ready to find your new favorite shirt? Gildan is in stock and the SoftStyle is here to stay. So if you're ready to find a fantastic shirt at a price that works for your budget, find a color that suits your fancy and order your tee today.
And if you have any questions about your purchase, please don't hesitate to get in touch! Our customer support team is here to help and will be happy to ensure you get the product you're looking for. Our job is to make our customers happy, and our team will do whatever they can to make sure of it