Home
»
Hanes Tall Beefy-T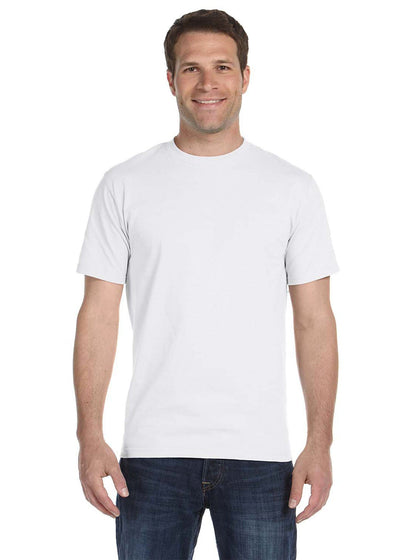 Hanes Tall Beefy-T
For tall guys, finding the perfect shirt is a struggle. You need something long enough, but you don't want it so big that you're swimming in it. The Hanes Tall Beefy-T is the perfect shirt to help tall guys look and feel their best.


The Perfect Tall T-Shirt
Meet the Tall Hanes Beefy-T, like the classic Hanes Beefy-T, but revised to be the perfect everyday t-shirt for big, tall men.

It's made with the same 100% ringspun and preshrunk, 6.1oz heavyweight cotton you would find in the Beefy-T, and with the same sturdy specs as the standard Beefy-T. But it's a little longer in the body and sleeves so that it fits tall guys perfectly.

Plus, with other comfort-oriented features like a seamless collarette, tagless collar, taped neck, and double-needle stitching throughout, you'll never need to fight with an uncomfortable shirt again. Instead, you can hang out or work hard all day long and feel as good as you look.

Classic Color Options Men Will Love

Sometimes, a guy just needs a classic t-shirt. That includes color. And like all our other styles, you can find this Hanes shirt in a variety of colors to suit any style.

Thinking of doing bulk orders to have shirts customized? Our expert customer service team would be happy to answer any questions you might have about how various colors perform with printing.

Sizes Guaranteed to Fit Every Kind of Tall

We know that finding tall sizes is no walk in the park. We also know you should always be able to find the Hanes styles you love. That's why we carry a wide range of size options to fit tall men.

Please note that our XT size options (3XT and 4XT) come with a minor surcharge. Not a big one, though! You'll still get better prices on your orders with us than you'll find anywhere else.

But don't take our word for it. Let the numbers speak for themselves. On this shirt, you'll see a retail price and a sale price. The retail price is what you would pay for the same great Hanes style with most other retailers. The sale price is what you pay with us-half of what you would pay when you do orders anywhere else.

Order Your New Favorite Tall T-Shirts

Ready for a standout basic tee? You're guaranteed to love this Hanes shirt. So make sure to find your size, pick your favorite color, and add it to your cart today. Just don't forget to place orders for extras--trust us, you'll be glad you did!

And if you love this tall shirt, don't forget to do other orders for the other big, tall people in your life. You'll find tons of options to match this shirt--or you can match this shirt to your friend's.