Home
»
Jerzees Super Sweats 50/50 Fleece Sweatpant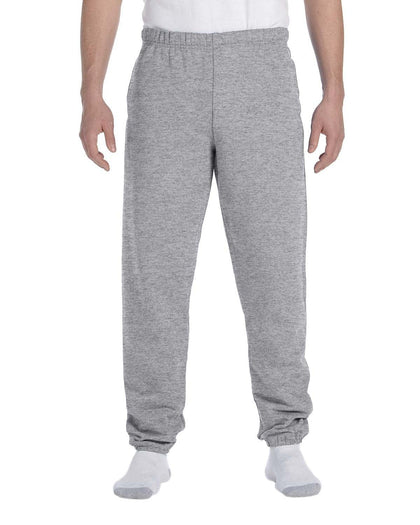 Jerzees Super Sweats 50/50 Fleece Sweatpant
Sometimes, you just need a classic pair of sweatpants. You know, the no-fuss, high-performance, crazy comfortable sweatpants you can live in. The Jerzees Super Sweats are the perfect sweatpants for those days when you need sweats so comfortable you could live in them for a week.

Better still, when you shop with us, you can find this fantastic Jerzees style for a better price than you could find anywhere else. You'll never have to compromise on style or quality--you just get the best of both.


Meet Jerzees Super Sweats, the Superhero of Sweatpants
The Jerzees Super Sweats 50/50 Fleece Sweatpant is a sweatpant that works hard so you can feel your best, even when you're just hanging out all day long.

Made from 9.5oz 50% cotton and 50% polyester, Jerzees isn't kidding when they say super sweats: NuBlend, pill-resistant, fleece, high stitch density for a smooth printing canvas, and an elastic waistband with inside drawcord, these sweats have a bit of everything.

NuBlend preshrunk fleece is virtually pill-free and is double-napped inside for a softer feel and increased loft. Plus, the 50% cotton/polyester NuBlend fabric offers you the best of both: softness from cotton and moisture-wicking from polyester.

Other features include side-entry pockets, elastic cuffs, an elastic waistband with an inside drawcord, and a front and back-rise differential for a better fit.

Classic Colors Everyone Will Love

Sometimes, a guy just needs a classic pair of sweatpants. We carry the Jerzees Super Sweats in a variety of classic colors every guy will love.

Ordering for a group? Curious about how the smooth printing canvas works depending on the color? Our expert customer service team will be happy to answer any questions!

Size Options to Keep You Super Comfortable

You know that feeling when you find the perfect sweatpants only to discover they're not available in your size? We know that frustration. That's why we carry these sweats in size options to fit just about everyone.

Please note that our extra-large sizes (2XL and 3XL) come with a minor surcharge. Even so, our prices for the Jerzees Super Sweats speak for themselves.

On this item (and every item in our store) you'll see a retail price and a sale price. The retail price is what you would pay with most other retailers. The sale price is what you pay with us--almost half the price you would pay anywhere else.

Order Your New Favorite Sweatpants

Isn't it time to find a pair of sweatpants that's a cut above the rest? We think the Jerzees Super Sweats are made to be your new favorite sweatpants. So pick your favorite color, find your size, and add them to your cart. Just don't forget to throw in an extra pair--trust us, once you try these on, you'll never want to take them off.